Restaurant Point Of Sale
Helping a thinly spread staff co-create improvements to their Point Of Sale and efficiency so they can focus on their customer experience
THE CHALLENGE
Our restaurant partner has only been open for a few months, but is staffed by service industry veterans. They rely on a small and efficient staff to service up to 80 visitors at a time through a counter service model where bartenders take orders at one of three locations. These same bartenders make drinks, pour beers, serve food, and bus tables. They literally have their hands full and are currently being slowed down by their Point of Sale (POS). A number of the staff have used other POS systems and had myriad suggestions for improvement to the interface.
THE OUTCOME
Our team performed a cognitive walkthrough of their current POS configuration off-site and went to the restaurant the following day for a contextual inquiry. After watching the staff express frustrations with some everyday tasks, we set to work prototyping an improved POS experience. My individual task improvements follow, but I encourage you to visit my peers pages as well for a more holistic view of all the tasks that could be improved within the POS system itself. Ultimately, my recommendation would be for the restaurant to switch to a cleaner and more modifiable system like Square for Restaurants, but this page is focused on recommendations that can be executed within their system.
I recreated the interface in Sketch (screenshot below) so I could prototype offsite. During our site visit, our team listened to various inefficiencies encountered by bartenders and worked to generate solutions to a range of issues. According to a recently released study, 1 in 10 Americans has a food allergy, but 2 in 10 Americans think they have a food allergy. This means up to 20 percent of orders could need modification before being sent to the kitchen (see JAMA Network). After witnessing a demonstration of the modification process, I attempted to streamline the process creating a more accurate and timely way to enter a guest's requests.
After designing screens in Sketch I uploaded them to Invision and created a clickable prototype using Hotspots as well as a screen-by-screen tour for the client to view (seen below). The current configuration is reliant on servers to enter the allergy and the placement visible to the kitchen (on the EXPO system) can vary. By using an Allergy window with accelerators this process becomes routine and gives the kitchen a consistent standard for viewing incoming orders. Each pop-up could be manually configured resulting in tighter inventory reporting (a boon to the back of house) and a more standardized way to cross reference an order's ingredients to a customer's food allergy.
After selecting a menu item, a pop-up then allows the server to enter any allergies.
The ALLERGY button is tapped, followed by Gluten to alert the kitchen staff/EXPO.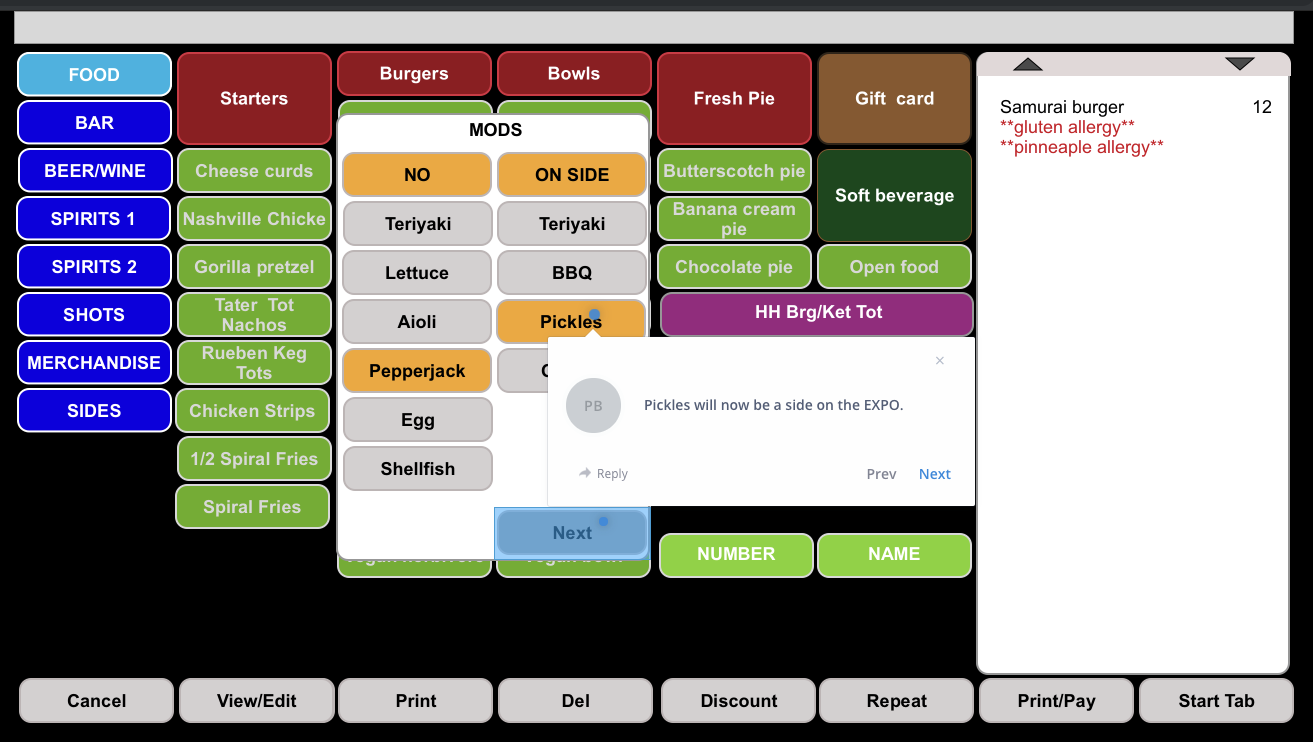 Order modifications benefit from the same UI consistency and accelerators.
The bartender quickly enters modifications to the order using on-screen accelerator rather than typing them in.
The server I interviewed showed me how difficult it is to split a check. After he showed me the labyrinth of screens necessary – and explained how he would lose multiple tips a night due to the cumbersome process – I decided to focus on this area next.
Splitting tabs was a major pain point for the staff, shown here are windows splitting the check in two.
Two customers decide to split the check evenly, but should they want separate checks the system has the option ready.
The deliverable to the client is available online as an InVision Tour (password protected). A screenshot is below.